ACUVUE 1-DAY DEFINE with Lacreon are available as Plano lenses or with powers ranging from -0.00D to -9.00D. Like all other ACUVUE® lenses, they also come with UVA and UVB blocking, protecting the inner part of the eye.
With 1-DAY ACUVUE® DEFINE® contact lenses, you can have a fresh, clean lens every day and enhance the beauty of your eyes. And, in case you lose one, you can open a new pack and replace them.
What are the Features & Benefits of 1-DAY ACUVUE® DEFINE®?
You get bigger, brighter and more beautiful eyes naturally.
You don't have to worry about cleaning solutions, lens care or lens cases.
The lenses have UV Blocking technology to help protect your cornea and the interior part of the eye.
Who should consider 1-DAY ACUVUE® DEFINE®?
People who are looking for an enhanced look of their eyes plus who are looking for a convenient, no-maintenance way to wear contact lenses.
People who want to wear contact lenses every day or just occasionally.
People who want UV Blocking in their daily disposable lenses.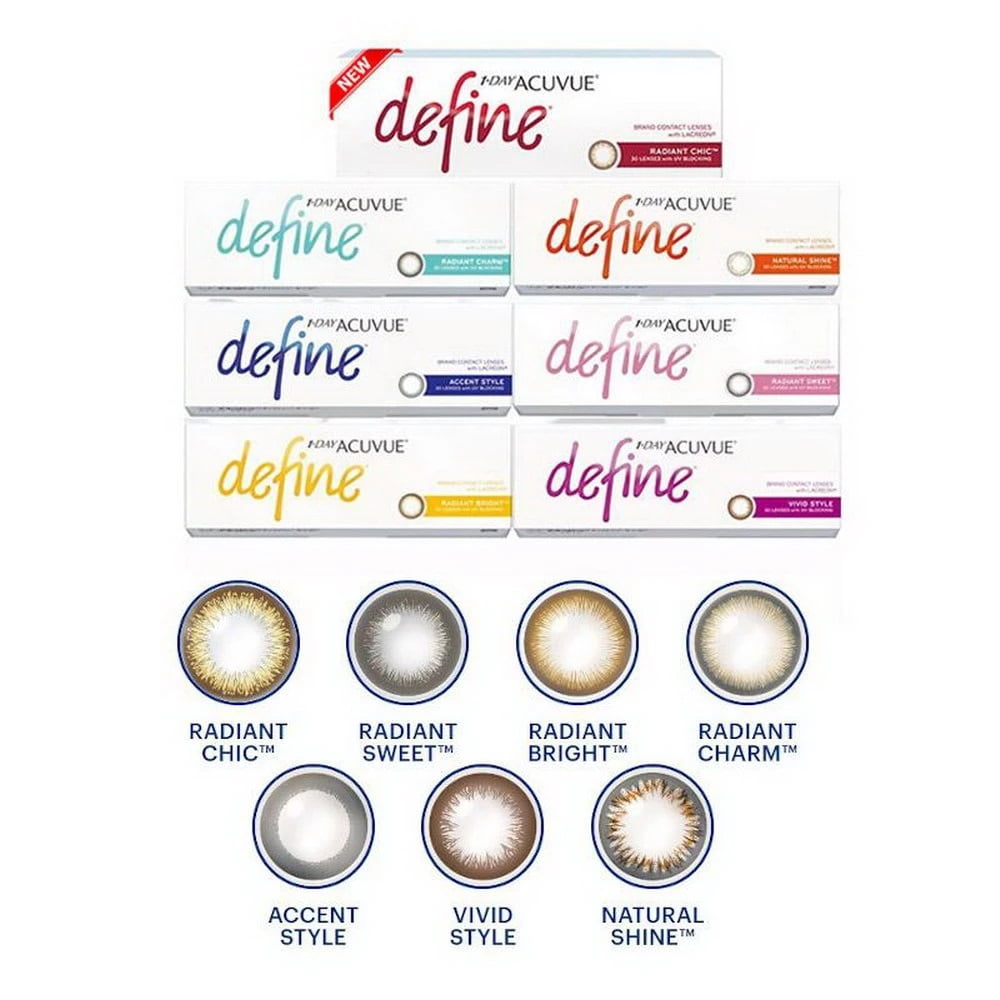 Product details
Manufacturer:
Johnson & Johnson Vision Care, Inc.
Brand:
Acuvue
Type of Lens:
Hydrogel
Country Of Manufacture:
Ireland
Available Base Curves:
8.5mm
Available Diameters:
14.2mm
Water Content:
58%
The Number of lens per Box :
30pcs
Replacement Schedule:
Daily Disposable
Material:
Ionic hydrogel (Etafilcon A)
Manufacturing Process:
Cast Mold
Oxygen Permeability:
25Dk/t @-3.00D
UV filter:
Class 2 81% UVA 97% UVB
Available Power Range (diopter):
Plano, -0.50 to -6.00 (0.25 steps) -6.50 to -9.00 (0.50 steps)
Design:
Spherical
Core Modulus:
0.31MPa
Center Thickness:
0.084mm @-3.00D
Optical Zone:
8.0mm
Colour:
RADIANT SWEET, RADIANT CHIC, RADIANT BRIGHT, RADIANT CHARM, NATURAL SHINE, ACCENT STYLE, VIVID STYLE
DISCLAIMER
Warning: UV-absorbing contact lenses are not a substitute for UV-blocking sunglasses. It is because a UV-absorbing contact lens covers only a part of the eye. Therefore, contact lens wearers must continue to wear UV-blocking sunglasses as instructed. *Optimal duration of wear may vary between patients. The exact wearing schedule is to be recommended by your qualified Eye Care Professional.