ACUVUE 1-DAY MOIST MULTIFOCAL is the first-ever multifocal lens with a design inspired by the function and structure of the ageing eye.
Presbyopia is a common visual issue, particularly evident in the elderly, which means that the pupil is no longer able to change the size and adapt as effectively as it once did. By correcting presbyopia, ACUVUE 1-DAY MOIST MULTIFOCAL make everyday tasks such as watching TV, reading the newspaper and working at a computer possible. On top of this, as daily disposables, you can be sure your eyes are enjoying a fresh and hygienic set of lenses each day.
Key Features & Benefits:
Multifocal lenses combat the effects of presbyopia
Daily lenses: super convenient and hygienic
LACREON® technology keeps lenses moist and eyes hydrated throughout the day
UV filter helps to block harmful sun damage
Breathable lenses ensure the utmost comfort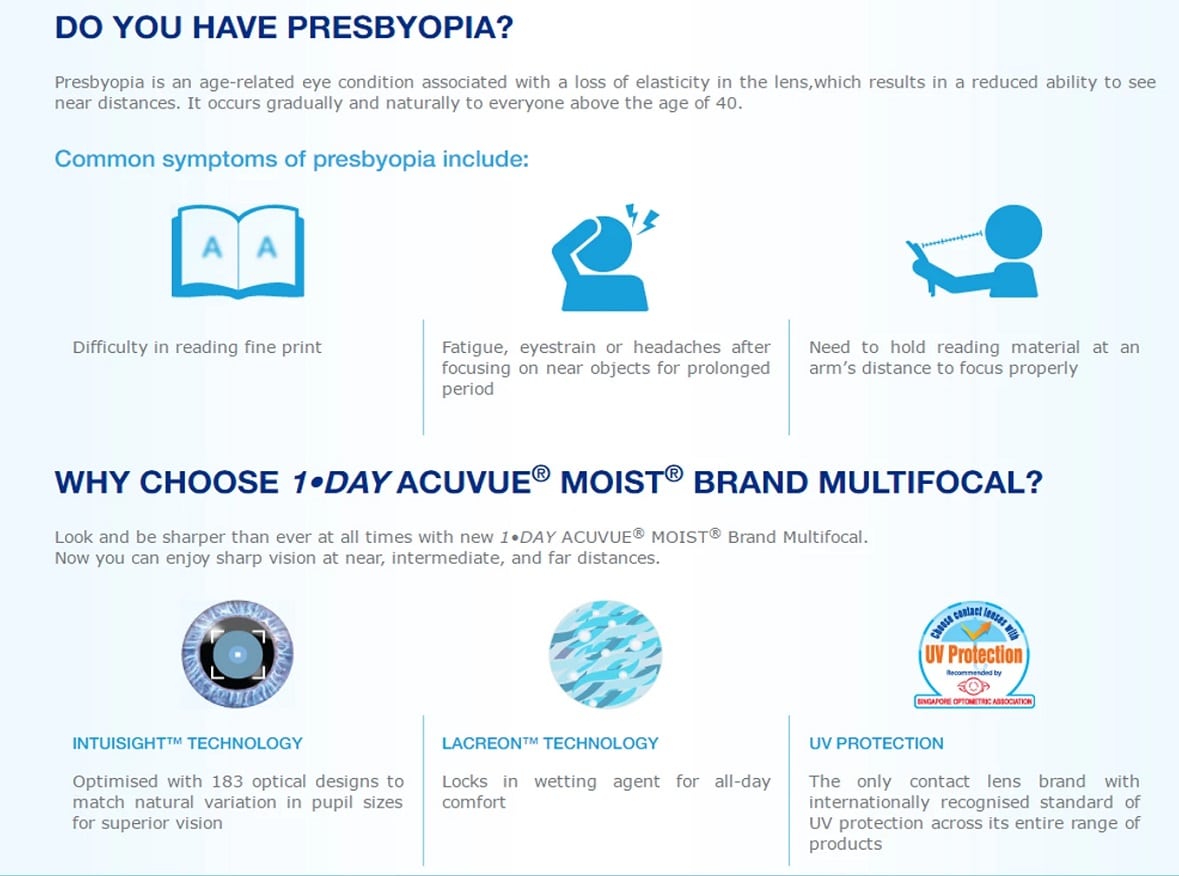 * All Multifocal are pre-order lenses; please do expect a longer delivery. The product might be delayed within 8-12 weeks if there is no stock at the supplier warehouse.
**It might be MORE THAN 12 weeks for any unforeseen circumstances. Can contact us to check for availability before ordering.
Product details
Manufacturer:
Johnson & Johnson
Brand:
Acuvue
Type of Lens:
Hydrogel
Country Of Manufacture:
USA
Available Base Curves:
8.4mm
Available Diameters:
14.3mm
Water Content:
58%
The Number of lens per Box :
30pcs
Replacement Schedule:
Daily Disposable
Material:
Etafilcon A
Manufacturing Process:
Cast Mold
Oxygen Permeability:
25.5 Dk/t
UV filter:
97% UVB 82% UVA
Available Power Range (diopter):
Plano to -9.00 (0.25 steps) +0.25 to +6.00 (0.25 steps)
Cylinder/Addition:
LOW: +0.75D to +1.25D, MID: +1.50D to +1.75D, HIGH: +2.00D to +2.50D
Center Thickness:
0.084mm @ centre for -3.00D (varies with power)
Inside-Out Mark
Yes (123 inside out indicator)