Bausch + Lomb ULTRA for Presbyopia delivers all-day comfort for people with presbyopia. This lens features a 3-Zone Progressive™ Design to provide an excellent vision for all distances – near, far and in-between. Together with their MoistureSeal® technology helps maintain 95% of lens moisture for 16 hours. This lens also helps relieve dry and tired eyes after a long day of using digital devices.
Presbyopia usually occurs around age 40, even if you've never had a vision problem before. You may start to experience blurry vision when reading or looking at your smartphone. Then, focusing between distances can also become more difficult. With all the demands you put on your eyes, it can be frustrating when presbyopia disrupts your life.
Key Features & Benefits:
Aspheric Optics for crisp and clear vision.
MoistureSeal Technology to maintain a high level of moisture throughout the day.
They have a thin lens design, yet they are remarkably easy to handle.
High oxygen transmissibility with a 163Dk/t value for high oxygen flows through the lens to the eye.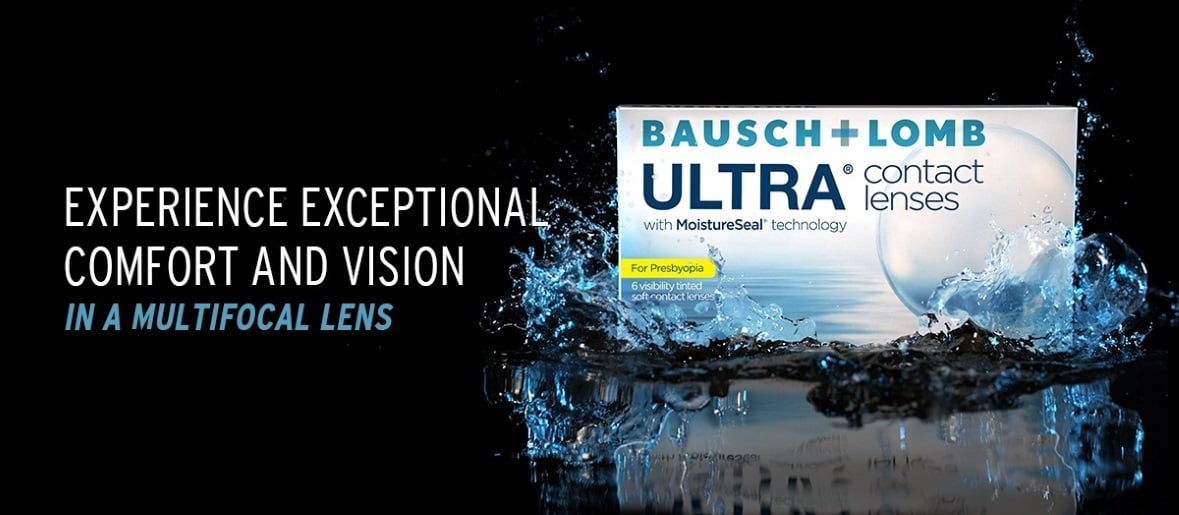 Product details
Manufacturer:
Bausch & Lomb Inc.
Brand:
ULTRA
Available Base Curves:
8.5 mm
Available Diameters:
14.2 mm
FDA Group:
Group V
The Number of lenses per Box :
3pcs
Replacement Schedule:
Monthly Disposable
Water Content:
46%
Material:
Samfilcon A (silicone hydrogel)
Oxygen Permeability:
163 Dk/t
Available Power Range (diopter):
Plano to -10.00D (in 0.25D steps), +0.25D to +6.00D (in 0.25D steps)
Cylinder/Addition:
Low (+0.75D to +1.50D spectacle Add), High (+1.75D to +2.50D spectacle Add)
Design:
Centre-near aspheric optics
Centre Thickness:
0.07 mm
Visibility Tint
Yes (Light Blue)